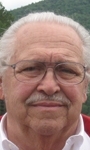 About Edward
Ed Koch joined the Gillis Realty team as Associate Broker during early spring of 2009. Ed works out of the Long Lake, New York office and occasionally can be found in the main office at Tupper Lake, New York.
Ed brings 30 years experience as a Real Estate Broker in Florida, Massachusetts and New York. He previously owned and operated Real Estate Development firms, Real Estate Management Companies and General Contracting firms building Custom Homes and Custom Log Homes.
Ed continues to be involved as a Construction Consultant to architectural firms and Real Estate Developers enabling him to keep up-to-date on new trends in the industry.
He enjoys interfacing with all clients and spends as much time as possible outdoors experiencing the beauty of the Adirondacks.